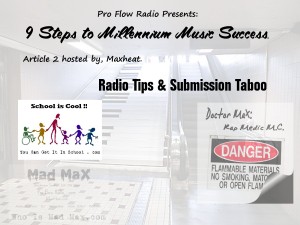 Article 2: Radio Tips and Submission Taboo
I did not want to introduce this subject too early but it is very important to cover radio etiquette in relation to artist submission. I also want to be as simple as possible. There is no detailed rulebook on music marketing or music production but there are basic principles in every piece of the puzzle. Independent music depends on radio play whether independent or major, but FM radio play is the ultimate reward for all the behind-the-scenes work. Pro flow radio dot com has been active in the online digital audio independent revolution for over 10 years. I have received thousands of singles, EPK's, MP3′s and biographies along with links and different presentations from all seven continents. I am also an artist for over 13 years and I have experienced the process of being a grassroots artist knowing nothing and walking the path from scratch. Currently I am music director for Pro flow radio and these are our official tips concerning what to do when sending in your music for radio rotation via FM, online or satellite. Sometimes the key revolves around what not to do.
The first thing that drives me crazy when I open my e-mail inbox is to actually take time and view a submission to soon realize the artist has sent only songs that have profanity, derogatory terms, sexism, drug abuse, illegal activity… basically nothing that can be played on radio. Everybody wants a hot 16 bars [actually they want 172 bars with no chorus and repeated use of the N-word]. They expect it to be radio ready. We can't play that. If you can't let your mom and grandma along with grandpa, the local schools, pastors, congregations and business community hear your single, then the single is not radio ready. If your quality is not clear and sharp, then it is not radio readyI know we are in the times of satellite radio and Internet radio but FM radio is usually the dream and if you're single is not radio friendly & produced to satisfy the radio standard then what is your purpose? I hear some really good songs but they may be saturated with so many bad words that it is impossible to introduce this particular artist to my audience. I have a responsibility. We have a responsibility as adults and as young people to create a positive environment for us all to enjoy. The radio is not for promoting any inappropriate and deviant behavior. It's pretty self-explanatory if you consider that the FCC is monitoring all activity. Don't send songs with bad words to any radio station. Indie musicians need to send radio versions or clean versions of their songs in order to enhance their chance of being played.
Another major pet peeve for me is having to rename your music file because you did not add the proper information. Make my job easier. If a music director receives hundreds or thousands of song submissions each year then they probably don't have time to evaluate and review every e-mail. They actually have learned to spot the best presentations that cater to them. When I see my inbox, I sort through the trash and the valid e-mails thus separating spam from actual content. I have many folders for different purposes. All music submissions are placed in the music folder. After sorting through all new arriving mail, I begin to review e-mails in the music folder. Some e-mails have an inexperienced look while others have a very fancy or professional design and layout. But what makes the difference is whether the artist has given the important information first and fast as well as whether they have attached an MP3 and their social networking links. I am not interested in a life story biography or a list of your iTunes album links. I just need to see that you are serious about your music. A picture, a brief description of why you are a unique artist, where you are from, all your twitter Facebook and YouTube accounts, your website is always a plus, a personal message to my company showing your personality briefly and requesting a response. Be specific about your response. Do you want instructions on how to submit properly? Do you need information about how many songs to submit? Do you need the agreement form? Be specific an any legitimate company will respond. Don't be shy and don't be overly bold because whoever is receding your submission probably has somewhat of an ego and you do not want to rub them the wrong way. You also want to be original & confident because people are judging you off of your first impression. When I submit I always send an MP3 because people don't always have the time to go download your link or even respond to your e-mail. But if you provide all information short and sweet along with the added tools like the MP3 you may have a better chance at getting in the door when the music director finally sits down at his desk to review the incoming influx. One major plus will be to encode your music correctly. Look up the details on how to encode your music so that when the music is played it displays the title of the song & album title. You can also add a website with a picture attached to it to impresses whoever opens the file and it also helps make their job easier because they don't have to go wondering what your name is. Some say never send an MP3. I say send two e-mails. The first is an e-mail with all the information but no MP3 and the second e-mail can be a follow-up with a similar message, all the right information and an MP3.
This subject could continue for a while but the concepts suggested are very simple. Just remember to do your homework when approaching stations. Find out if the have a submission policy or certain requirements. Don't ask questions with obvious answers that get easily overlooked. Does not professional to ask about fees or tech requirements if the company has a web page with all the info already published public. Be sure to inquire about exchanging links if you have an artist page or offer to send a drop that can be played on air to promote the station. Don't forget to follow up but don't over do it. If you contact twice appropriate but never establish contact, move on and find other options.